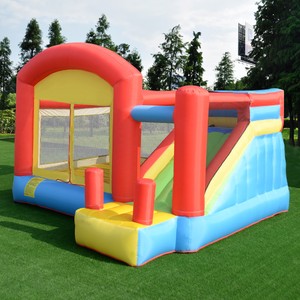 Bouncy castles are one of the most fun memories of childhood. A sight of them would intimidate us so much because they were so much filled with fun, adventure and it was a great way to be with other kids as well. Bouncy castles are a common sight at parks and playhouses for children and their vibrant colors and designs catch their attention a lot. They are also popularly rented for functions in a church, school, a house party, or festivals in villages. But do we know the history behind these amazing thing, as to when and how were they made? Let us have an overview.
History of the Inflatable Castle
It is a common knowledge that John Scurlock was the first person to create the bouncy castles for kids. The prototype for the first castle was made in 1968 and it went on to the markets to be sold for different vendors only in 1977.
But not many people know another person who had already created a bouncy castle to entertain 5 of her kids. It was Jerome Grosset from Lyon, France who was a French Farmer. She also created the first trampoline in the world by digging a hole, placing a canvas on their side of it and placing a fan underneath them to provide the push. This had an issue that while jumping, the canvas sides would come off due to the pressure. To make it even secure, Jerome placed two canvases, one on the top of another and tied them with extremely heavy ropes. The mass which was created was inflated and a lot of kids from the neighborhood would come and play in them.
In 1997, this invention inspired a British couple, William Forsyth and his wife, Dana to be the builders of the biggest inflatable castle in the world. The castle measured 90 by 30 in feet and was named as the White Bouncy Castle. The couple was choreographers and this castle was built in Germany. This castle was made to travel multiple times between the UK and Germany where it was displayed in various popular fests.
In 2005, the record was broken by a manufacturer from China, which built a space-themed castle measuring 90 by 60 feet. Until 2013, this was the biggest until when the company JB – Inflatable broke this record by building a monster measuring 120 feet by 60 feet.
Conclusion
Bouncy castles might seem to just play – toys but there are a lot of certifications, safety measures and industrial practices that go behind creating one. When you are sending your kids to an inflatable castle, make sure you ask for the inflatable's annual test certificate and the insurance of the company that is hiring it. You should also ensure that all safety measures are in place, it is properly inflated, the safety mats are good in number and the entire castle must be secured properly. Our castles ensure that the safety standards are to the highest level so that the kids can have a safe and equally fun experience.